About Us
Directories and Buyer's Guides.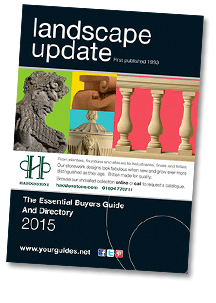 YourGuide publishes a series of Printed and Online Buyer's Guides and Directories. The Buyers' Guides are product focussed so when a buyer is searching we make it easy to find the right suppliers.
For suppliers YourGuide provides an extremely cost effective way to promote their company and products for a whole year – whenever a buyer searches they are always seen!
Landscape Update
The best in cost effective promotion to the landscape profession since 1993, with a distribution of over 7,000 copies. The printed Landscape buyer's guide is complemented by a comprehensive online directory to help specifiers and purchasers with product selection.
Printed Version.
Published once each year in Spring the printed edition of Landscape Update is an invaluable resource guide for professionals in the landscape industry. When a buyer searches they can always find the right suppliers and products quickly and easily.
---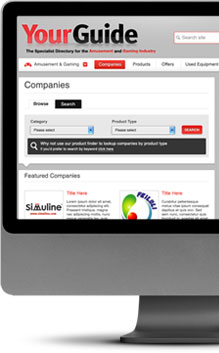 Online Directory Overview.
The online version of Landscape Update works on a proven directory model, where every company gets a free basic listing, and then there are special subscription packages for companies to make their information stand out from their competitors.
The site is fully optimised for the search engines so we catch many of the industry related searches… if you think about it there's no better time to be seen than when a buyer is actually searching for your type of products! - please click here for details on how to "Include your products".
Why Advertise?
Comprehensive Coverage
Landscape Update's printed version reaches every local authority in the UK - usually several copies to relevant staff in a variety of departments. Plus those architects involved with landscaping and the specialist landscape architects and designers dealing with both large and small scale contract work. The contractors fulfilling the jobs and a good representation of groundsmen / greenkeepers who have asked to see the issues. These are our core readers.
Growing Circulation
First published in 1993, our distribution has continuously grown and is now in excess of 7,000. A distribution constantly developed, constantly promoted and all done in-house.

Sectors Covered
Landscape architects/designers, Landscape contractors, Architects, Local authorities/central government staff, Groundsmen/greenkeepers, Landagents, estate owners, surveyors, Civil engineering/building contractors, Leisure organisations (theme parks, golf clubs, etc.), Property developers/management, Statutory bodies (English Heritage, National Trust etc.)


Advertisements Are Seen
Landscape Update's product focussed printed version is a handy A5 size which is kept on desks and used as a reference source for a full year - advertising is seen and keeps on working. With top ranking in the search engines the online version catches the buyers who are searching for your type of products and services and displays your entry – it's the best time to be seen.
More For Less
Landscape Update's online and printed coverage reaches buyers who are searching with a long lasting hard working message.
Testimonials
'I was initially recommended to advertise in Landscape Update by some one who was getting excellent results. I checked further by telephoning some other advertisers in a similar field but with whom I would not be competing and they were equally unequivical in their comments.' Peter de Sausmarez, www.artparks.co.uk.

'I have referred and recommended 3 other companies to Landscape Update because this means of advertising really works. Here at Quercus Fencing we get a strong response every time we advertise.' Lisa Beard, Managing Director, Quercus Fencing Ltd.

'Shelley Signs have always found Landscape Update an excellent source of high quality leads.' Robert Shelley, Director Shelley Signs Ltd.

'Aquadyne Sales and Marketing have consistently received more enquiries followed by higher conversion rates from Landscape Update than other publications in the same market. We intend to increase our space requirements.' James Arrowsmith, Director, Aquadyne Sales and Marketing

' Initially this type of advertising is not our thing, but after a trial we realised that in fact people did read it . We had a large amount of enquires from out first advert and these turned into solid leads and then decent orders. The service is very good and we will continue to have a presence in Lanscape Update.' Simon Williamson, Readyhedge Ltd.