About Us
Directories and Buyer's Guides.
Your Guide publishes a series of Printed and Online Buyer's Guides and Directories. The directories have dedicated sections for every type of product so when a buyer searches we make it easy to find the right suppliers.
For suppliers YourGuide provides an extremely cost effective way to promote their company and products for a whole year – whenever a buyer searches they are always seen!
The Vending Directory
The Vending Directory is available online at this site and lists suppliers of vending machines, bulk capsule machines and fillers, vending machine components, money handling equipment, kiosks, self service products and much more...
---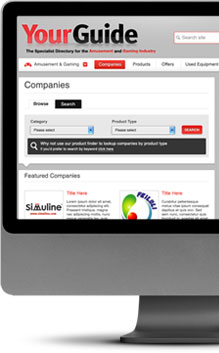 Online Directory Overview.
The online Vending Directory works on a proven directory model, where every company gets a free basic listing, and then there are special subscription packages for companies to make their information stand out from their competitors.
The site is fully optimised for the search engines so we catch many of the industry related searches… if you think about it there's no better time to be seen! - please click here for details on how to "Include your products".
Why Advertise?
Increased Coverage
The online version is used 365 days / year and is updated daily. You don't have to invest a fortune to receive a full years advertising coverage.
Working for all nationalities
YourGuide's format is simple and easy to use for buyers of all nationalities. Research has shown that buyers worldwide rate product information as their number one requirement – that's exactly what we provide.
Advertisements Are Seen
Online Top ranking in the search engines means that we catch visitors who are searching for your type of products – it's the best time to be seen.
More For Less
YourGuide reaches buyers who are searching with a long lasting hard working message.