About Us
Specialist Buyer's Guides.
YourGuide publishes a series of Specialist Buyer's Guides which are available online, in print and by email. The online guides are all available to view at this site and act as Virtual Exhibitions for each industry...exhibitions which are open every day of the year and continuously updated with the latest products and company information.
For suppliers YourGuide provides an extremely cost effective way to exhibit their company and products for a whole year!
YourGuide To The Construction Industry.
YourGuide's Construction Industry Buyers Guide is a showcase of the latest products and services from construction industry suppliers.
---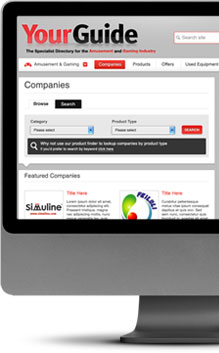 Online - Your Virtual Construction Industry Exhibition.
Constantly updated with the latest products online YourGuide to the Construction Industry attracts over 9,000 visitors every month. It's an online exhibition with products, news, offers, brochures and videos...an exhibition which never closes it's doors to visitors.
YourGuide is fully optimised for the leading search engines so we catch many of the industry related searches… the Internet is the medium most used for sourcing products, so it is important to optimise your presence - arrange to showcase your company and products. Please click here for more details.
---
Printed Buyers Guide and E-Guide.
Once each year we publish a printed Buyers Guide which is circulated to leading industry buyers and distributed to visitors at trade events. The printed guide is an invaluable resource for construction industry buyers. It is based on content from our Online Buyers Guide with dedicated colour coded product areas so each issue builds into an essential and easy to use overview of the very latest products. When a buyer searches they can always find suppliers and products quickly and easily.
We also publish the Buyers Guide as an E-Guide which is emailed to over 4000 subscribers and is also available to download from this site - click the link above to view.
Why Include Your Products?
Used Not Stored
YourGuide's printed Buyers Guides are a compact A5 size, a business tool that is kept close at hand and used time and time again for reference. That means your advertising keeps on working for much longer.
Increased Exposure
When it comes to maximising exposure for your products YourGuide to the Construction Industry gets full marks. Products are available to view online, in print and by email. The online version is a virtual trade show that is working 365 days a year and is updated daily. You don't have to invest a fortune to receive a full years exposure.
Quality Circulation
YourGuide's Construction industry database has been built over a 15 year period of successful publication of the PIR Construction magazine and consists of over 10,000: • Managing Directors within SME (Small & medium enterprise) building companies• Architects, • Energy management consultants • Environmental Managers • Heating/Air conditioning contractors • Electrical Contractors.• MSC (Microgeneration Certification Scheme) approved installers• CEN Solar Keymark scheme UK members •Renewable energy equipment installers. The circulation has been audited by ABC and is continuously updated.
Products Are Seen
We constantly work on Search Engine Optimisation to improve the ranking of our online Buyers Guide and the keywords associated with our customers..we catch visitors who are searching and deliver them to specific pages for your products...it's the best time to be seen.
More Feedback
Online we create a unique webpage to exhibit your company and your products - With fully transparent reporting you can view your weekly and monthly visitor statistics. A product that is performing particularly well could be promoted further with a free news item or inclusion in our product emails. Buyers can contact you from your online showcase in many ways: telephone, email, single click visit to your website, brochure / quotation request and also links into your social networking sites.
More For Less
YourGuide reaches more buyers with a longer lasting message and all at lower rates than traditional trade press advertising. Click here for latest advertising rates..